Semi-Truck Accident: Prevention & Important Tips for Sharing the Road
January 25, 2019
Semi-trucks—also referred to as tractor-trailers or 18 wheelers — are important to America's economy. They transport important goods such as grocery items and gasoline. Sharing the road with such large vehicles is often scary and downright dangerous. Understanding why many truck accidents occur and learning how to drive defensively can help you arrive safely to your destination. If you've been injured in an accident involving a semi-truck while traveling along a Kentucky highway, contact a personal injury lawyer without delay. 
Contributing Factors of a Semi-Truck Accident
The U.S. semi-truck industry is governed by the Federal Motor Carrier Safety Administration(FMCSA). The primary goal of the administration is to develop measures that reduce crashes, injuries, and fatalities involving large trucks and buses. Despite their ongoing efforts, semi-truck accidents continue to plague Kentucky highways due to a variety of reasons, some of which include:
Driver Fatigue—Truck drivers are in-demand as the current population of drivers is nearing retirement age. According to industry experts, the nation's truck driver shortage may triple by 2026.
The decreased workforce, combined with increased freight demand, is resulting in fast training for new drivers and overworking experienced drivers. Federally mandated hours-of-service require a 30-minute rest break after 8 hours of driving. Many studies find, however, that drivers often violate this regulation.
Truck Braking Capability—It takes a loaded semi-truck 20-40 percent farther to stop than a standard passenger vehicle. Factor in wet, slippery roads or poorly maintained brakes and it is a recipe for disaster. Semi-trucks also sit taller than passenger vehicles, creating a dangerous opportunity for small cars to slide underneath the truck during a collision. Efforts are underway for requiring side underride guards like those already required for the rear of semi-trucks.
Driver Distraction—Driver distraction is a problem among drivers of both passenger vehicles and semi-trucks. Texting and driver inattention continues to climb as contributing factors in accidents. Technology designed to assist drivers, such as navigational apps, sometimes proves more distracting than helpful. Finding the balance between new technology and keeping our roadways safe is a challenge facing both the semi-truck industry and car manufacturers.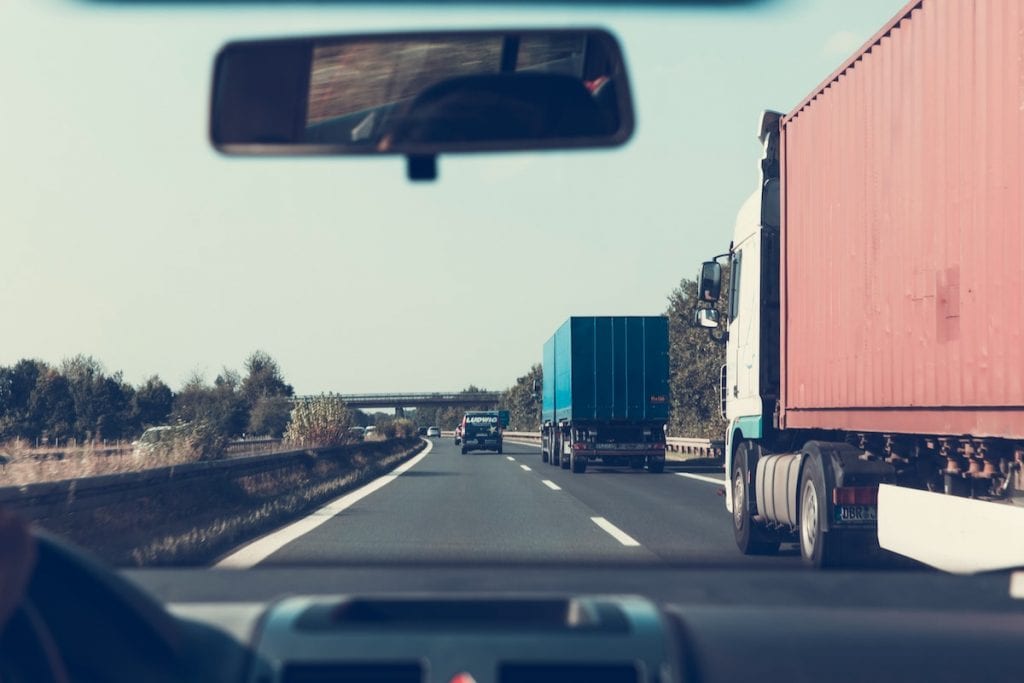 Learn to Know the No-Zone
Most drivers are familiar with blind spots—the area where your car disappears out-of-sight from the view of a semi-truck driver. These "No-Zones" are everywhere and understanding more about them is key to preventing, and possibly surviving an accident.
Rear No-Zone—If you're tailgating a semi-truck, chances are the driver can't see you. If the truck needs to stop suddenly, you and your passengers are in danger of serious injury.
Side No-Zones—If you can't see the driver's face in their side window, they can't see you, making it a dangerous situation if the truck driver decides to change lanes.
Front No-Zones—Cutting off a semi-truck too quickly after passing it can cause the driver to brake. Remember, trucks with heavy loads take much longer to stop. Pass the truck, then return to your lane, allowing enough space between you and the truck.
By practicing these tips and knowing the "no-zone," you stand a better chance of avoiding an accident.
Kentucky Personal Injury Attorney
Good driving habits are important. Sometimes, however, accidents occur due to no fault of your own. While semi-trucks provide a valuable service to our economy, those driving the trucks must do so in a responsible manner. If you've been seriously injured or lost a loved one due to the negligent or reckless behavior of a semi-truck driver, call Saladino & Schaaf at (270)444-0406 or contact us online.
Depending upon the circumstances of your case, you may be entitled to compensation for medical bills, lost wages, and pain and suffering. Don't delay as time is of the essence—schedule your free consultation today.
SALADINO & SCHAAF
PERSONAL INJURY ATTORNEYS
To reach a trusted member of our team, contact us by calling:
270-444-0406